Being charged with a crime can permanently alter your future. You could be facing severe potential penalties such as jail time or the loss of your basic rights – including the right to vote and bear arms. Attorneys at Flesch & Beck Law has been representing criminal defense clients in Colorado for over 40 years. He knows exactly how to craft the strongest possible defense strategy for his clients during many different types of criminal cases.
If you or a loved one has recently been arrested or charged with a crime in Denver, Colorado, contact us at (303) 980-5511 for a free case consultation. Attorneys at Flesch & Beck Law can help you successfully navigate the criminal justice system to protect your rights and future.
Denver Criminal Defense Attorney
Why Choose Our Denver Criminal Defense Lawyer?
Flesch & Beck Lawn is a tenacious advocate and litigator who is a member of the American Bar Association, Colorado Bar Association and Colorado Criminal Defense Bar

Our law firm has been representing clients in both misdemeanor and felony cases throughout Colorado since 1980. We have the experience you need for a strong defense

Our attorney has long-standing connections to the criminal courts and judges in Denver County. Flesch & Beck Law can provide effective advocacy in and out of the courtroom
How Can a Criminal Defense Attorney Help?
The Sixth Amendment of the U.S. Constitution gives every citizen the right to counsel, even if he or she cannot afford to pay for a lawyer. The constitution emphasizes the right to counsel because it is critical for the protection of an individual's legal rights in a criminal case. The average layperson does not have the legal knowledge or education to effectively defend himself or herself from criminal charges. Do not put yourself in a risky position when your future is at stake. Hire an experienced Denver criminal defense attorney to represent you.
A defense lawyer knows how to craft a winning legal strategy in your defense against the criminal charge(s) you are facing. While you may not know all of the facts or information that could have a crucial impact on your case, your defense attorney will – and can use them to your advantage. A lawyer will use his or her legal experience, connections to courts and judges, understanding of the laws in Colorado, and aggressive negotiation skills to achieve the best possible criminal case outcome for you.
How Much Do Criminal Defense Lawyers in Colorado Typically Charge?
A common reason why defendants consider representing themselves in criminal cases is to save money by eliminating the cost of hiring an attorney. Saving money now on legal fees, however, could cost you much more in the form of losing your freedoms and rights later. Without a lawyer, you may face a worse case outcome and more severe penalties. You could also end up paying more in fines and restitution as part of your sentence, even if you spent less in attorney's fees upfront.
The cost of criminal defense in Denver changes from lawyer to lawyer. On average, however, criminal defense lawyers charge around $200 per hour. Some may price their services closer to $100 per hour, while others may charge around $350. The factors that can affect the price include the experience level of the lawyer and the complexity of the case. 
Criminal defense attorneys in Colorado may charge hourly or a flat fee. There may also be a retainer, or a minimum amount that you must pay upfront before the lawyer will begin work on your case. If your criminal case goes to trial, expect higher legal fees. Many lawyers offer flexible payment arrangements and installment plans to help defendants afford their services.
The best way to find out how much your criminal defense case is going to cost is by consulting directly with an attorney near you. While paying for a private defense lawyer costs more than using a public defender, you get what you pay for: a highly experienced and dedicated criminal defense attorney with the resources to achieve optimal case results.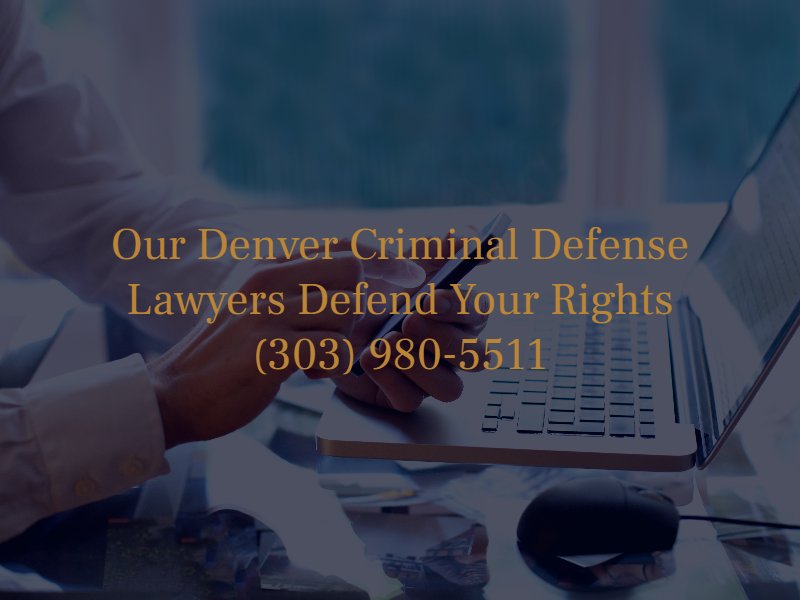 What Criminal Cases Does Finegan Law Handle?
At Flesch & Beck Law, we handle many different types of criminal cases in Denver and throughout Colorado. Our lead attorney's decades of experience in criminal defense have taught him how district attorneys and prosecutors put together their cases. Mr. Finegan takes an aggressive, proactive approach to criminal defense that begins immediately after an individual's arrest. Our law firm can help you protect your rights and build a suitable defense to all of the following types of charges, and more:
Assault and battery

Disorderly conduct

Juvenile crimes

Property crimes (such as theft and robbery)

Traffic and moving violations

Vehicular homicide

White-collar crimes
We provide personalized Denver criminal defense. This means that your lawyer will work closely with you to understand what happened and learn how to present your story in the best possible light. Flesch & Beck Law does not simply encourage every client to accept a plea deal. He considers each client's criminal background, the evidence available, whether there were any administrative errors or civil rights violations during the arrest, and many other elements to determine the best way forward.
Being arrested or charged with a crime is a frightening experience. What you do next can decide your fate. Hiring the right criminal defense lawyer can change the outcome of your case and protect you from facing the most severe penalties associated with the crime. Choose Flesch & Beck Law to benefit from the services of a trusted criminal defense attorney in Denver. Mr. Finegan will stand by your side through every phase of a case, providing frequent updates and personalized legal counsel along the way to improve your peace of mind.
You don't have to face a criminal case alone. Contact Flesch & Beck Law by calling (303) 980-5511 or describing your situation in a confidential online message for a prompt callback. We will meet with you in person or over the phone to discuss your criminal defense case at no cost or obligation to hire us. Our goal is to help you understand your rights and feel more secure about your future during this difficult time. Please contact us today for more information about your criminal defense case.