Being accused of domestic violence can have major consequences on your life. It can destroy your reputation and relationships with loved ones. It can also take away your freedom and many of your basic rights, such as the right to vote and bear arms. You may be facing a life-changing sentence if convicted of a crime with a domestic violence enhancement in Colorado. This is why it is crucial to contact a Denver domestic violence defense lawyer as soon as possible. 
At Flesch & Beck Law, our highly experienced Denver domestic violence attorneys has represented hundreds of clients in this practice area over the last forty years. Attorneys at Flesch & Beck Law are skilled advocates and litigators who will spend time personalizing your defense strategy for the best possible results. When your future is at stake, trust our Denver domestic violence defense attorney for unparalleled criminal defense.
Denver Domestic Violence Defense Legal Resources
Why You Need a Domestic Violence Defense Lawyer
Self-representation is generally not a good idea during any type of criminal case in Denver. You could be facing life-altering ramifications if convicted of domestic violence or abuse in Colorado. The prosecutor – the person bringing the domestic violence charges – will have a team of lawyers and consultants working against you to achieve a conviction. The best way to protect your rights is by hiring an attorney to level the playing field and represent your interests.
A domestic violence defense attorney in Denver will have the knowledge, experience and resources to build a strong defense strategy on your behalf. The exact defense plan will depend on your specific case, but you can trust that it will be the best way forward to protect your future and reduce the consequences that you face. Your lawyer will be your advocate and guide throughout your legal matter, giving you counsel and improving your peace of mind during this stressful time.
What Is the Definition of Domestic Violence in Colorado?
According to Colorado Revised Statutes Section 18-6-800.3, domestic violence is an act or threat of violence against someone with whom the actor is or has been involved in an intimate relationship. It can also refer to other crimes when used as a method of intimidation, control, coercion or punishment – including crimes against the victim's property or pets. 
An "intimate relationship" describes one between spouses, former spouses, unmarried couples or people who have a child together. Domestic violence is not its own independent crime in Colorado. Instead, it is used to enhance another crime, such as assault, stalking, harassment or menacing.
How Can Domestic Violence Allegations Impact the Accused in Colorado?
If you have been accused or charged with domestic violence in Denver, it is critical to take it seriously. This is not a petty offense in Colorado. It is a serious crime that can be charged as a felony in certain circumstances. Allegations of domestic violence can have many consequences for the accused, including:
A protective order or restraining order

A jail or prison sentence

Fines

Restitution paid to the victim

Mandatory anger management or substance abuse counseling

Probation

Effects on parental rights

Gun ownership restrictions

Loss of voting rights
The penalties that you face as a defendant in a domestic violence case will vary based on the crime attached to the domestic violence enhancement. Other factors that can affect sentencing include your criminal background, the severity of the alleged victim's injuries and the circumstances of the offense (such as if it involved a deadly weapon).
What Should I Do If I've Been Arrested for Domestic Violence in Denver?
If you've been arrested for domestic violence in Denver, take certain steps right away to protect your legal rights. The first step is to invoke your right to remain silent. As explained in your Miranda rights at the time of your arrest, anything that you say can be used against you in a court of law. The best way to protect yourself is by not saying anything – especially any admittance of guilt or collaboration – until you have an attorney present.
The next step is to contact a criminal defense lawyer. You can use your phone call after being booked at the police station to contact  Flesch & Beck Law at (303) 980-5511. The police cannot monitor a phone call made to an attorney. You can also call a family member or trusted friend and ask that they reach out to us for you. Do not answer any questions asked by a police officer until your lawyer arrives. Do not accept a plea deal without consulting legal representation, either.
Do not assume that your spouse or the person accusing you can simply take back the allegation and release you from any further criminal investigation. In Colorado, once a domestic violence crime has been reported, the matter is out of the accuser's hands. Even if the individual rescinds his or her allegation or does not wish to press charges against you, you may be arrested and charged with this crime. For this reason, always hire a criminal defense attorney in Denver to represent you as soon as possible.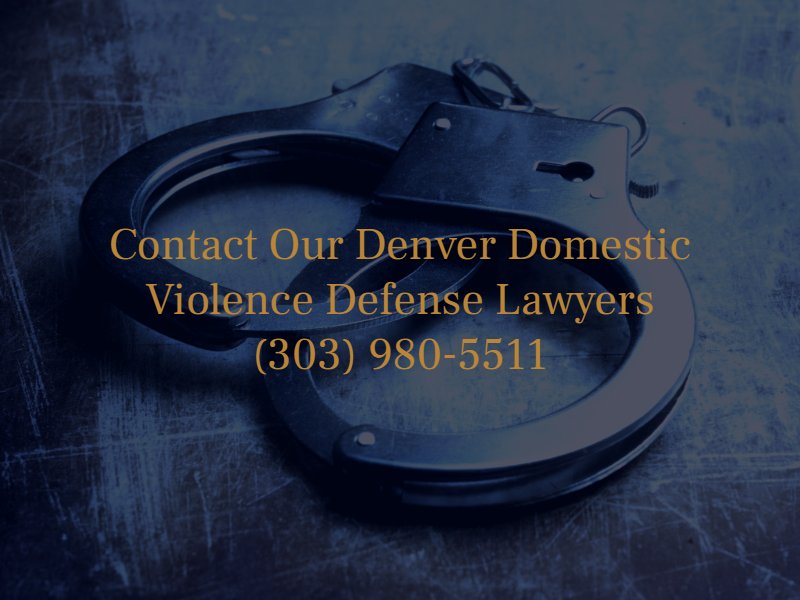 What Defenses Are Available to Domestic Violence Charges in Colorado?
A smart defense strategy can make all the difference during a domestic violence case. A skilled criminal defense lawyer will craft a strong defense plan to improve your chances of achieving a positive case outcome, such as the dismissal of the charges or a reduced sentence. Although each case is unique, potential defense strategies can include:
Alibi (no crime committed)

Self-defense or defense of others

False accusation

Accident/lack of intent

Insufficient evidence

Police misconduct
At Flesch & Beck Law, we do not make a blanket recommendation to all of our clients to plead no contest or accept plea deals. We take the time to understand each client's story and personalize a defense strategy for the individual. We will treat your case as if it was our own future on the line.
Attorneys at Flesch & Beck Law has what you need for an aggressive criminal defense strategy when faced with domestic violence or abuse charges in Denver, Colorado. He understands the laws in Colorado that pertain to these cases and how to best protect his client's rights using custom-tailored defense strategies. Find out how we can help you in more detail during a free case consultation at our local law office. Call (303) 980-5511 or contact us online 24/7 to arrange your meeting.